Custom Florida Homes
We Will Completely Customize Your New Home
ICI Homes, Florida's Custom Home Builder
Have you ever fallen in love with a home, thinking the floor plan would be absolutely perfect if only it had a bigger kitchen, a private in-law suite or a three-car garage?
Fortunately, changing a floor plan to uniquely suit you is part of the culture at ICI Homes. Since every customer wants something different, ICI Homes makes it easy to get exactly what you want in a custom home – without adding substantial costs to your bottom line.
Of course you may purchase any one of the award winning designs from ICI's extensive plan library exactly as is, or choose standard add-ons like a bonus room or extra square footage. You can blend elements from different home plans or completely customize a home plan to fit your individual needs and lifestyle.
Our sales consultants and professional in-house plan developers pride themselves on spending one-on-one time with you to learn about your wants and needs and then transform your wish list into a final blueprint.
ICI Homes has been building luxury custom homes in Florida for almost 40 years. Whether you're looking to build a custom home in Jacksonville, Tampa, Orlando, Daytona or any of our area communities in Florida, ICI Homes will deliver the custom home of your dreams.
For More Information, Request a Brochure or Visit these Links:
To Learn About the Communities we can Customize Your New Florida Home In.
Want to Build a Custom Home on Your Own Lot in Florida?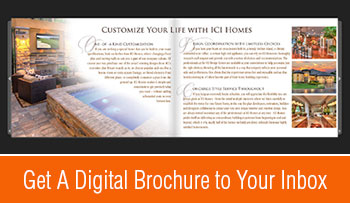 Learn more about building a custom home with ICI Homes at ICICustomHomes.com